Compressed Air Grid 'Battery' To Challenge Tesla Powerpack
Compressed Air Grid 'Battery' To Challenge Tesla Powerpack
Solar, wind, batteries, nuclear, tidal power, among others, provide carbon-free electricity. But their generation is usually immediately absorbed into the power grid for use or stored in lithium-ion batteries. Large-scale energy hoarding is expensive, and quite frankly, with base metal prices skyrocketing, maybe unattainable unless the Biden administration allocates billions of dollars to upgrade the grid.
Toronto-based Hydrostor has found a solution to storing power on the grid that doesn't involve batteries but instead stores energy in the form of compressed air in underground chambers.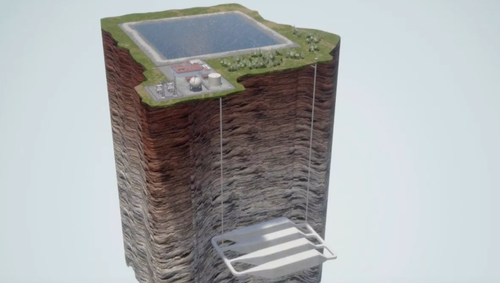 California is becoming the new site for two new compressed-air energy storage plants that "will soon rival the world's largest non-hydroelectric facilities and hold up to 10 gigawatt-hours of energy," said Popular Mechanics.
Compressed air is part of a growing type of energy storage to stabilize the grid. Here's how Hydrostor's: A-CAES technology works:
A-CAES uses surplus electricity from the grid or renewable sources to run an air compressor. The compressed air is then stored in a big underground tank until energy is needed, at which point it's released through a turbine to generate electricity that's fed back into the grid.

Rather than vent the heat generated as the air is compressed, Hydrostor's system captures that heat and stores it in a separate thermal storage tank, then uses it to reheat the air as it's fed in to the turbine stage, which increases the efficiency of the system. This could prove to be key; compressed air storage systems have typically offered round-trip efficiencies between 40-52 percent, and Quartz is reporting more like 60 percent for this system.

Hydrostor's A-CAES also makes use of a closed-loop reservoir to maintain the system at a constant pressure during operation. The storage cavern is partially filled with water and as the compressed air is piped in, the water is forced into a separate compensation reservoir. Later, when the air is needed, the water is pumped back into the air storage cavern, pushing the air out towards the turbine. - New Atlas
Hydrostor provides three-minute of how the technology works.
Hydrostor has two major projects in active development – one in southern Kern County and one in Central California, creating a more practical way to store energy on the grid than costly batteries.
"Hydrostor's patented and commercially proven A-CAES technology provides 8-12+ hours of energy storage, versus the 1-4 hours that current battery technologies can feasibly provide," Hydrostor said.
When it comes to longevity, a compressed air energy storage plant has a lifespan of more than 50 years, far outpacing battery farms, like Elon Musk's Tesla Powerpacks.
... and to be clear - all this talk about net-zero carbon emissions talk in the next couple of decades is just a guess by policymakers.
https://www.zerohedge.com/technology/compressed-air-grid-battery-challenge-tesla-powerpack